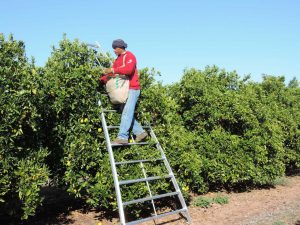 The advancement of technology has paved the way for agricultural operations to be mechanized leading to increased efficiencies in the orchard. Currently robots are being tested to pick fruits, but results show that robots are still not commercially viable.
The harvesting season is one of the busiest times in an orchard. When growers determine that the produce is ripe for picking, fruit pickers only have a limited time to collect the yield from each tree. Fruit picking is a crucial step to ensure the quality of the yield before it is stored and transported. Fruit picking is time-consuming and labour intensive but is still best done the traditional way - with delicate human hands.
There are challenges when picking fruit the traditional way. Fruit pickers are exposed to health and safety risks such as harsh weather conditions or difficult to reach crop location. An orchard ladder can help fruit pickers reach crops situated even in the toughest locations. In order to maximise the traditional ways of picking fruit, utilising a ladder ideal for fruit picking would prove beneficial.
Here are two things that make a ladder ideal for fruit picking:
Structural components
Among the many types of ladders, those that can stand on their own and on top of uneven surfaces of an orchard are ideal.
Tripod ladders are widely used in the agriculture industry. The tripod ladder is easy to transport because it can be folded and it is lightweight. A wide base, an open centre and slim top structure stabilises the ladder and allows it to fit among the trees. Solid stainless steel ground spikes help the ladder stay firmly on the ground and prevent damage to irrigation systems. Custom box stiles and profiled rungs ease the grip of the picker. The stability and simplified structure of a tripod ladder allow the picker maximum reach.
Bow ladders are widely used in the citrus industry. A curved construction of a bow ladder allows the picker to safely reach for citrus from all heights. The smooth and wide stiles set on a box section stabilises the stand of the ladder and the grip of the picker.
Made from long-lasting material
Wooden ladders are susceptible to splintering, cracks and breaks from pressure. Wooden ladders can also rot when they get wet, and are difficult to repair. Steel ladders are heavy and corrode easily in wet conditions.
High-tensile aluminium alloy is durable, lightweight and has corrosion-free properties. They are ideal for orchard use as they can be easily transported from tree to tree, withstand commercial picking requirements and do not corrode when exposed to the weather.
A trusted manufacturer and supplier of agricultural equipment
AIM Sales offers a line of fruit picking ladders designed for the safe picking of tree crops. The company manufactures and distributes a range of products for the agriculture industry. AIM Sales has developed advanced in-house & robotic manufacturing techniques and facilities to provide agricultural equipment to clients across the country. We take pride in our product quality and personalised service that earn the trust of our clients.
Looking for quality ladders for your orchard? Get in touch with us today.
We welcome the chance to serve you also