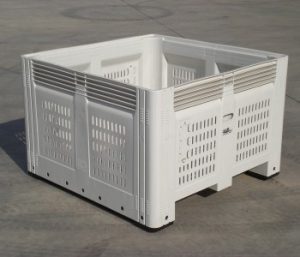 Wooden and timber pallets have been the most popular choices for the manufacturing and agricultural industries. They are well-known for being cheap, reusable and repairable. However, they tend to break easily and are difficult to clean because of their porous & irregular surfaces. When they're damp, there's the increased risk of infestation and contamination.
In recent years, industries have been making the switch to plastic pallets as an alternative to their wooden counterparts. Here's a list of the major advantages of plastic pallets and why they're the better choice for most businesses today.
Portability
Plastic is lighter than wood so plastic pallets weigh less than their wood counterparts. The lighter weight makes it easier for workers to carry the pallets, and it reduces shipment costs when pallet weight is included in the billing.
Additionally, plastic pallets are made from a uniform moulding process that gives them equal-sized surfaces. This uniformity makes plastic bins easier to stack and prevents product slippage during the handling process. Plastic also has less friction, which results in less required power and better efficiency when transferring products.
Strength and durability
Timber crates tend to crack, splinter and absorb water in humid environments. They have weak points at the joints that frequently break, resulting in costs for pallet repair or replacement.
Plastic pallets are highly durable with a long service lifespan. They regularly last for up to fifteen years. Unlike wood, plastic is able to withstand weather elements in between transport because it does not break down from water sources and biological decomposition. It also cannot be devoured by insects or fungi.
Safety
A wooden crate has a lot of nails in it. A loose rusty nail or screw can damage and contaminate fresh produce or injure workers handling the bins.
Plastic pallets are constructed in one solid piece, eliminating nails, splinters and broken boards. This continuity in structure also lowers the risk of products falling because of a heavy load due and weak wooden joints. With the use of plastic pallets, goods are less likely to be damaged and your pallet handlers have a safer working environment.
Hygienic purposes
If you ship products that need to meet specific hygiene standards like fruit and vegetables, plastic pallets are better. Plastic bins, especially those manufactured from food grade HDPE, do not absorb moisture or promote bacteria growth. This makes them well-suited for contact with food.
If liquid spills, plastic pallets are easy to clean because you can wash them down with high-pressure hoses. By sanitising them between uses, contamination is minimised -- reducing the spread of food-borne illnesses like Salmonella and E. Coli.
Environment-friendly
Compared to timber pallets that you throw away once they are beyond repair, you can recycle plastic crates. At the end of a plastic bin's service life, they can be conveniently sent to a recycling station where they are remade into other plastic products, including new plastic pallets. This promotes an economy where waste is reduced instead of produced. Additionally, it adds value to an otherwise retired product.
A.I.M. Sales have a range of high-quality pallet bins
Looking for large plastic bins for your storage and shipment needs? A.I.M. Sales' Nally Megabins are widely used across many sectors as a robust storage and handling solution. Compatible with most bin handling machinery and pallet jacks, the bins are available in both solid and ventilated versions.
To know more about our Megabins, contact our friendly staff on 02 6964 4688 or email info@aimsales.com.au for queries.
We welcome the chance to serve you also