The Hydralada 640 Maxi is arguably the most versatile machine in the range. It is the workhorse of the range and is well suited to shed builders, netting contractors, arborists, and growers of tall tree crops including avocadoes and mangoes.
The ultimate tool for the mango grower, the 640h Maxi Mango is a specialised model, delivering a mango wash solution to the picking bag to prevent blemishes from the sap occurring on the fruit.
The 640 Maxi is powered by a 23 horsepower American built Kohler engine, making this machine quiet and economical to run. Working heights of 8.4 metres are easily achievable with a 6.4-metre platform height. Foot controls are fitted as standard with this machine, enabling the hands-free operation and increasing the user's productivity. Hydraulic oil is available in the cage along with a range of hydraulic attachments for safe and efficient pruning.
The 640 Maxi can be fitted with a range of options to suit individual requirements making this unquestionably the most stable elevating work platform in the industry. A well-engineered chassis with a low profile tail makes this machine ideal for orchard use as it can fit below low hanging branches.
Reach out to us today for a free quote
Specialised onboard mango wash system with two 200-litre solution tanks and pump that delivers mango wash through the spray nozzles mounted at the top of the picking bag.
Mango wash constantly flows over the mangoes as they pass through the picking bag, washing the sap from the skin and eliminating any blemish occurring on the fruit.
Feet controls increase productivity by allowing hands operation of the Hydralada machine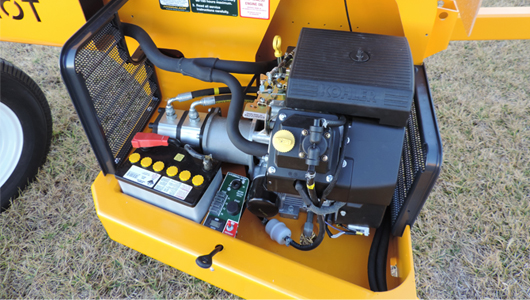 Generous fuel capacity coupled with efficient Kohler engines allows operator hours of uninterrupted use
Customise your Hydralada to suit your needs