INDUSTRIAL AND AGRICULTURAL PRODUCTS OF THE HIGHEST QUALITY
As a trusted manufacturer and distributor, we stand behind all of the products we provide with an unswerving commitment to serve.
The unbeatable all terrain machine, the AIM Elevado Elevated Work Platforms reach into places unaccessible by other machines. This is coupled with a Slw Boom allowing easy access to heights above obstacles. With the option of Dynamic Self Levelling, these EWPs can be used on slopes of up to 20°.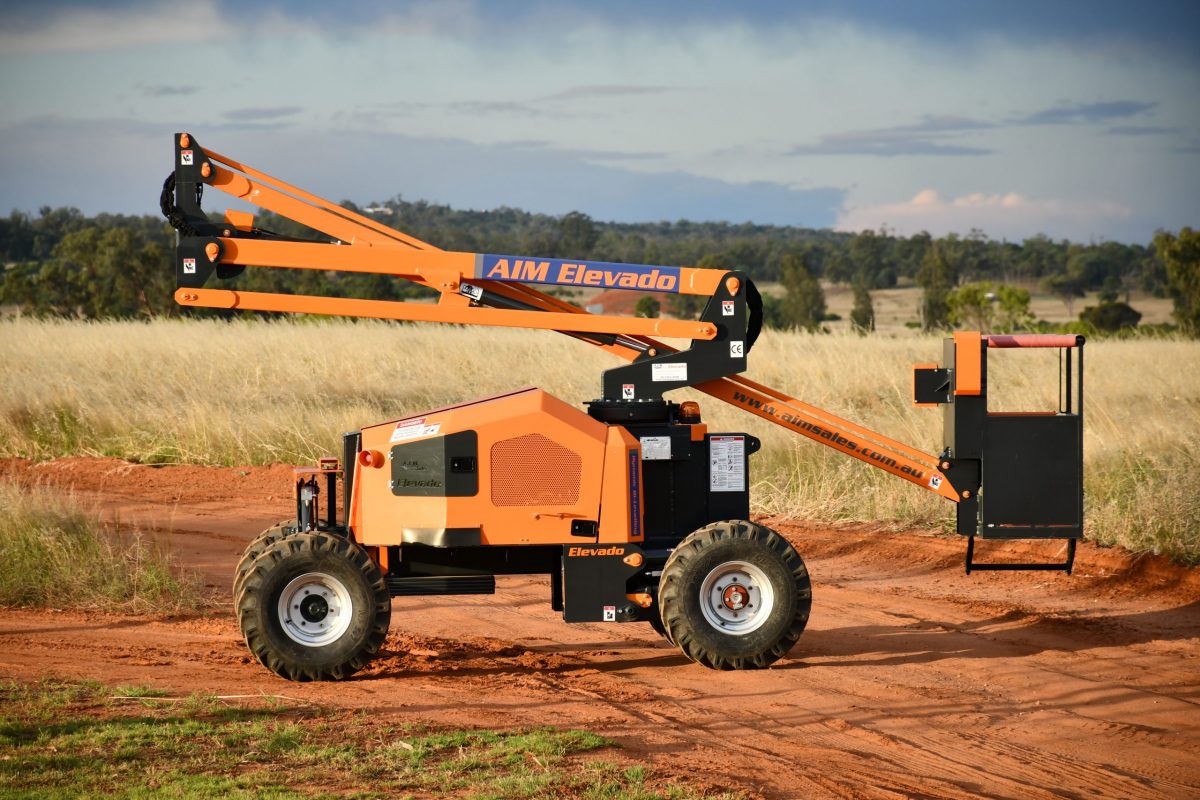 We offer various models of Hydralada Elevating Work Platforms. Each model comes with different platform heights that you can choose from, with customisable features available on the machines, depending on your unique requirements. Powered by an American built Kohler engine, the fuel efficiency of these machines is yet to be beaten.
Our sprayers are designed to provide maximum accuracy in orchard spraying with a consistent linear spray pattern from top to bottom of the tree canopy. The highly directional air nozzles allow the HSS sprayers to be individually customised for maximum flexibility and simple reconfiguration in the tower configuration, without compromising the accuracy of application.
Introducing the Elevado Orchard Platforms!
These self-propelled picking platforms ensure picker safety whilst maximising efficiency in the orchard whether the task be pruning, thinning or harvesting. Enables workers to have both hands available whilst at an elevated position to increase productivity.
Commonly used to transport produce from the farm to the processor, the pallet bins are also seen across various industries as a materials handling solution. Conveniently handling waste, work in progress and providing bulk storage our bins are robust and well suited to the demands of the market.
AIM Bin Runners
AIM Self-Loading Bin Trailers are used in many fruit handling applications around the country. The combination of hydraulic-powered chain loaders and a bin trailer that can be configured to carry up to 5 bins at once makes for a very efficient method of transporting bins to and from the field.
Our range of sturdy picking ladders are used widely across Australia to harvest tonnes of tree fruit every season. These ladders are made to exceed Australian safety standards and are the picker's choice to pick, prune and thin tree crops. With advanced in-house robotic technology used and custom engraving available for unique identification; we provide quality ladders with a short supply time.
Our very own AIM Forward Bin Tippers have been used by the industries we serve for many years. The Australian made tipper is built for reliability and longevity and the quality won't let the user down. The tippers' fast, controlled hydraulic tipping action makes materials handling safe and easy.
The Tow and Blow is the ultimate solution to combat frost. With the wind machines portability, it can be relocated quickly to protect different areas of your crop and adjusted to suit prevailing winds, and best positioned within the terrain for maximum protection.
AIM's range of plastic crates are used across a diverse range of industries as a materials handling and storage solution. Available in a range of sizes, colours and configurations, we supply nesting, swing bar, stacking, folding and aquaculture crates to suit your needs.

AIM provides a wide range of harvesting bags designed to protect produce from damage whilst remaining comfortable to the user. With our unique harness design, the load is evenly distributed across the pickers back, reducing back strain and injuries. With breathable anti-bacterial and rot-resistant fabric used, these industry-quality picking bags will last many seasons.
AIM Sales is a trusted distributor of Mahindra tractors throughout the Riverina. Our offering includes a wide range of models from 35HP to 100HP. With various loader and drive configurations available, there is sure to be a tractor to suit your unique needs.
We stand behind the products we provide.